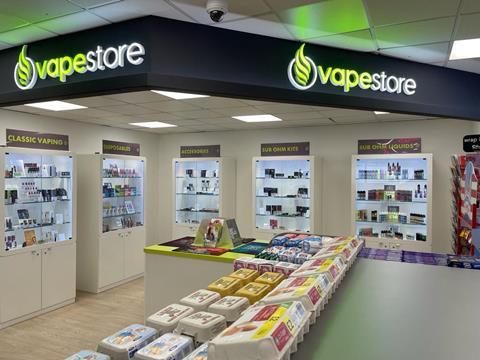 Budgens Lee-on-the-Solent in Gosport has just reopened following a full refit, which includes upgrading its food to go offer and installing a Vapestore store-within-a-store concept. "It cost the best part of six figures, it was a pretty extensive job," says marketing director Paul Lodge. "The focus was on making it a lighter, brighter area, a nicer place to be for customers as well as staff."
One of the key ways to bring more light into the store, which measures just under 2,000 sq ft, was by lowering the shelving. "We reduced our gondola heights to 1.3m, which means we can see all four corners of the store," says Paul.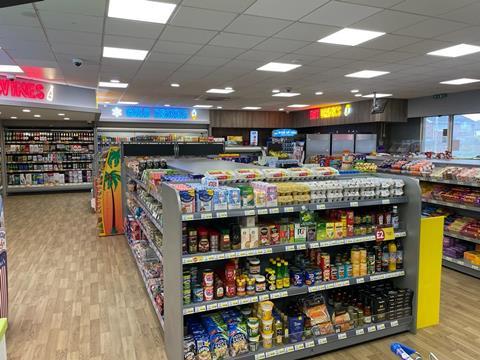 Upgraded lighting has also improved the store's atmosphere. "We've gone with neon-effect LED to make it look more modern and punchier," he says. 
The store has undergone a range review. "We reduced our household and grocery range," explains Paul. "There was stuff that didn't sell and was taking up space. We were shelf stacking for the sake of it, which there's no point in doing. We want stuff on the shelves that's going to sell, so rather than five varieties of ketchup and 10 facings of it, we have the brand and two variants and that's it." 
Food to go is a bigger focus in the new look store. "We've seen as a company a massive growth in snacking, in food to go, and in coffee," says Paul. "We've increased our Tchibo coffee machines from two to three; we've increased our hot food offer to add a grab and go Flatstone pizza, and the heat to eat Stack'd offer with toasties and ciabattas. We've had Tango ice blast and F'real for two or three years, but we've added Fanta frozen and Coke frozen." The drink and milkshake machines are blocked together to ease shopper navigation. "There's now one area for drinks to go and that runs into the chiller that's got cans and bottles," says Paul. "The heat to eat and sandwich range is opposite coffee and the hot food units are next to the coffee."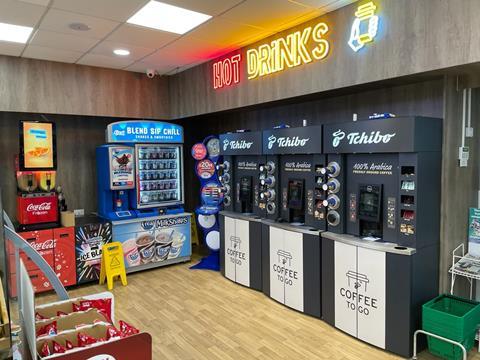 But perhaps the most striking addition to the unit is a store-within-a-store Vapestore. "As a category it's [vaping has] been in growth for a long time," says Paul. "Every time the government puts the price of cigarettes up again it's forcing more and more people to quit. Selling cigarettes and vape, we are perfectly positioned to help those people convert." This is especially the case given that Rusdene has partnered with the Smokefree Hampshire initiative which sees those looking to quit smoking given vape kit and e-liquid vouchers to spend at their local store.
The firm has already seen the potential of a bigger vaping offer at its Waterlooville Londis store, which had a Vapestore-within-a-store fitted three years ago, and has proven to be "a roaring success". Prior to its latest incarnation, Budgens Lee-on-the-Solent had a behind the counter vape offer. "We put some sort of vape solution in all of our sites three years ago," says Paul. "The size of the solution depended on the size of the site, so Lee-on-the-Solent had a medium sized couple of cabinets behind the counter and the growth in sales was fantastic over that three year period, which then warranted dedicating much larger space to it and doubling the amount of range."
The new Vapestore shop takes up about a 10th of the floor space (approx 200sq ft). "We have five stand alone cabinets, a serving table and a discussion area where we can explain bits and pieces – it's a decent sized space," says Paul.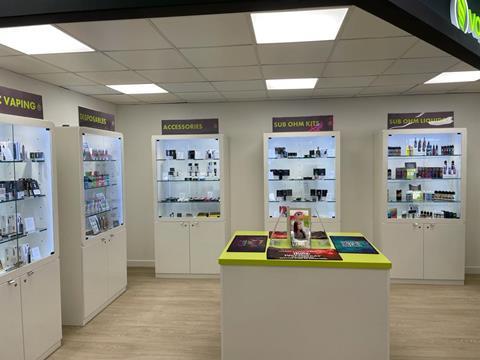 Having experienced poor customer service when researching vape stores in the past, Paul was convinced that the firm had to go big or go home. "Going into some of the independent vape stores, they were not particularly welcoming places or places that professional people would want to go into," he says. "With one or two I wouldn't go through the door because it was a bunch of people vaping at a counter with blaring music and it did not feel like a welcoming place to be and the levels of service were not great at all. We absolutely saw that gap in the market to offer excellent customer service in a setting and layout that was welcoming to everybody."
He claims that staff knowledge is crucial to make the concept viable. The store has taken on a dedicated Vapestore manager, full time. "We've also given extensive training to four of the team and they've been up to Vaporize headquarters," says Paul. "The training is massively important. Anybody can sell some vape liquid, but if you're trying to explain to someone who's never vaped before what kit is the right one for them; how a kit works; what a coil is; how often you have to change it etc, you need a good understanding and we definitely felt that if we were going to do it properly, our staff had to understand it and we had to have vape champions in store who are the most highly trained. Everyone of our cashiers has had some form of vape training." 
At Waterlooville, which houses Rusdene's most established store-within-a-store, the group is seeing yearly growth of around 50%. Paul is hopeful that this success can be replicated at Lee-on-the-Solent. "I think it will work," he says. "The brand is strong, the layout of the store is very good, I think our staff are excellent – they give great customer service and know what they're talking about, and we're open 7 days a week, with free parking. The offer we have in terms of range, price, availability, convenience ticks an awful lot of boxes for a lot of people."
He has no qualms about the high cost of the investment. "As a company we dont believe in doing anything half-heartedly and if it means additional labour, additional cost so be it," he says.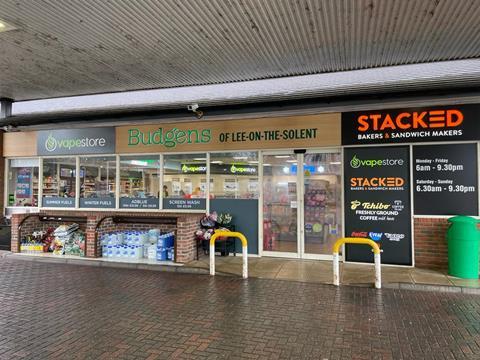 "A lot of people within the convenience market get scared of that. With food to go, people don't like the idea of wastage and they don't like the idea of additional staff and will therefore only do it halfheartedly. It's the same with vape – as a category it scares people because it is quite complicated. If you know nothing about it, if you've never vaped, it's a bit of a minefield, but we absolutely believe that additional staff were needed, training was crucial to get it right, the right partner was also very important and Vapestore has been brilliant. Waterlooville was a leap of faith but we believed in it, we believed in the staff, believed in the concept and invested heavily." 
He adds that developing the business has also had a positive impact on staff morale. "Staff want to see that we as a company are investing, not just in them in terms of their salaries, bonuses and training, but in the business that they work in to make it as good as possible," he says. 
For more on vaping, check out our products in depth report on the category.
https://www.conveniencestore.co.uk/your-stories/why-i-put-a-vape-shop-inside-my-newly-refitted-budgens/665667.article